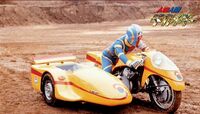 The
Side Machine
(サイドマシン, Saido Mashin):is the personal motorcycle of
Jiro
/Kikaider. It was created by Dr. Komyoji as a mode of transportation. As the name suggests, it has a built in sidecar for passengers. It can be controlled remotely through a signal emitted by Jiro. While in human form the bike was called the Sidecar, With the side car appearing on the left side. When Kikaider appeared in
Kikaider 01
, the bike would remain as the Side machine even when Kikaider changed to his human form. The bike can fly & ride upon water and has a speed of 500km per hour as the Side machine.
Ad blocker interference detected!
Wikia is a free-to-use site that makes money from advertising. We have a modified experience for viewers using ad blockers

Wikia is not accessible if you've made further modifications. Remove the custom ad blocker rule(s) and the page will load as expected.