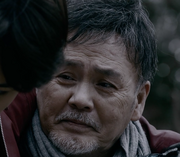 Kyujiro Maeno (前野 究治郎, Maeno Kyūjirō?) is a kind old FBI member.He helped Jiro to discover the true meaning of life and machine.
Behind the scenes
Portrayal
Kyujiro is portrayed by Daisuke Ban (伴 大介, Ban Daisuke?), who had played the original Kikaider.
Etymology
Kyujiro's name is a play of the phrase "The previous old Jiro" (前の旧次郎, Mae no Kyujiro?) in homonym, refer to the actor's role in the original TV series.
Ad blocker interference detected!
Wikia is a free-to-use site that makes money from advertising. We have a modified experience for viewers using ad blockers

Wikia is not accessible if you've made further modifications. Remove the custom ad blocker rule(s) and the page will load as expected.