Kikaider REBOOT
Talk

0
321pages on
this wiki
Kikaider REBOOT (キカイダー REBOOT, Kikaidā Ribūto?) is a 2014 feature film which acts as a reboot/relaunch of the Kikaider franchise created by Shotaro Ishinomori.
Set in the near future, Dr. Nobuhiko Komyoji was the head of the robot engineering project "ARK Project" to use robots peacefully to solve problems beyond human control. Dr. Komyoji however died during an experiment and a year later the project was headed by his rival Kanzaki and the Minister of Defense Tsubakiya who had begun to use the project for their own personal benefits rather than its original objective. To revive the original project, Jiro aka Kikaider, an android with a Conscience Circuit created by Dr. Komyoji has appeared to protect his creator's children Mitsuko and Masaru who have the key to complete the project.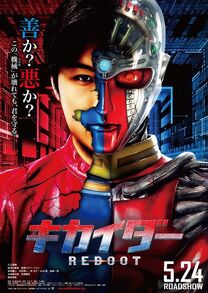 Suit actors
Edit
Trailer Gallery
Edit
Production
Edit
At the end of Kamen Rider × Super Sentai × Space Sheriff: Super Hero Taisen Z
, as seen in both the theatrical and DVD release, a post-credits scene features the sound of a heartbeat and Kikaider is shown with the narrator stating that all the heroes that were featured in the movie "aren't the only superheroes of Earth". This hinted at a Kikaider revival project. Despite the original suit being used for the announcement, redesigned suits for the main character and Hakaider were utilized for the film much like in Kamen Rider The First and The Next.
In December 2013, around the time the next Super Hero Taisen film was announced
. Publisher Kadokawa revealed on their official website that the upcoming Kikaider movie will air sometime in 2014. The site also featured the new Kikaider novel, which listed that the movie would be released in fall 2014. This later proved to be specualtion as the film was announced for a summer release on May 24, 2014  [3] [4]
Kikaider Reboot premiered in Japan on May 24, 2014
In the US, a special one week run of the film was done at the Consolidated Theatres Ward Stadium in Honolulu, Hawaii from October 10 to October 16, 2014, featuring English subtitles by JN Productions. This showing was done by native fans of the original series as a commemoration of the franchise's 40th anniversary. On Halloween 2014, JN Productions announced a future DVD release for the film around the holiday season. [5]
External Links
Edit
References
Edit