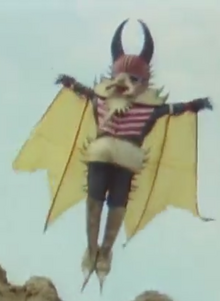 Golden Bat is a bat-shaped Destructoid that served DARK and was trained to eliminate Kikaider. He possesses the ability to fly, teleport, and a special ability called "Bat Flash" to temporarily blind his enemies. Like most Destructoids, he is capable of disguising himself in human form, taking the form of Taro, Mitsuko's long lost brother to fool her.
Ad blocker interference detected!
Wikia is a free-to-use site that makes money from advertising. We have a modified experience for viewers using ad blockers

Wikia is not accessible if you've made further modifications. Remove the custom ad blocker rule(s) and the page will load as expected.