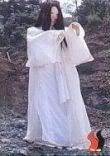 Ghost Woman
(ユウレイ女,
Yūrei Onna
,
11
): Powers include summoning fire balls, levitation, fangs, a 7-tube missile launcher in the left arm called the Deathfire Missile, spinning very fast to burrow underground, and splitting into four shadow men in a technique called the clone attack. She was killed by
Kikaider 01's
Blast End along with
Crimson Turtle
.
Gallery
Ad blocker interference detected!
Wikia is a free-to-use site that makes money from advertising. We have a modified experience for viewers using ad blockers

Wikia is not accessible if you've made further modifications. Remove the custom ad blocker rule(s) and the page will load as expected.