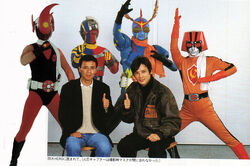 Daisuke Ban (伴 大介, Ban Daisuke?), sometimes credited as Naoya Ban, played Jiro (Kikaider) in Android Kikaider, and returned for episodes 3-9, 11, 12, 14-20, 25, 26, and 46 of Kikaider 01. He also played Battle Fever J as Makoto Jin (Battle Cossack) in episodes 33-52, Choujuu Sentai Liveman as Doctor Hoshi, and the titular characters of Shotaro Ishinomori's Daisuke Izumo (Fire-Stealth Captor 7 of Ninja Captor, and Goro Watari (Inazuman) in Inazuman(1973), and Inazuman Flash. He reappeared in the Kikaider REBOOT series as Kyujiro Maeno.
External links
Ad blocker interference detected!
Wikia is a free-to-use site that makes money from advertising. We have a modified experience for viewers using ad blockers

Wikia is not accessible if you've made further modifications. Remove the custom ad blocker rule(s) and the page will load as expected.